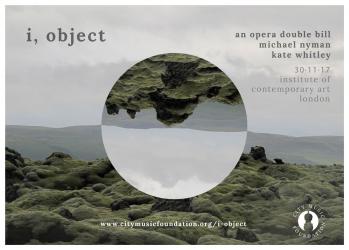 Open Rehearsal (4pm); Panel Discussion (6pm); Performance (8pm)
The Ligeti Quartet, along with other City Music Foundation artists, will perform in this double bill of operas by Michael Nyman and Kate Whitley.
Whitley's Unknown Position was inspired by Erika Eiffel, who famously married the Eiffel Tower in a real life example of object sexuality or objectophila. In the libretto, by Emma Hogan, the woman portrayed falls in love with a chair.
Central to each opera are elegiac moments of musical insight into the unknown territory of how the characters experience life. In Dr P's beautiful 'River' aria, he describes "seeing" a scene which is in fact completely within his mind, and in Unknown Position the stunning love aria subverts the normal, as the love object of the serenade is a chair.
Originally premiered in London at the Institute of Contemporary Art in 1986, this new production of Nyman's The Man Who Mistook his Wife for a Hat will return to the same venue, 31 years later.
Nyman's The Man Who Mistook his Wife for a Hat is adapted by librettist Christopher Rawlence from a case study by Oliver Sacks, the renowned neurologist who died last year, concerning events of Dr P, a music professor, who has gradually lost the ability to comprehend or interpret what he sees, a neurological deficit known as 'visual agnosia'.
Cast
Conductor: Mark Biggins
Director: Rosalind Parker
Designer: Lauren Tata
Associate Designer: Ana-Sofia Londono
Soprano: Raphaela Papadakis
Tenor: Paul Curievici
Bass-Baritone: Joseph Padfield