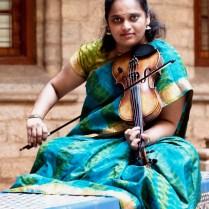 Violinist Jyotsna Srikanth explores time in South Indian music. The first half of this concert, with mridangam and ghatam percussion, comprises a whirlwind historical sketch of great composers from the 15th to the 20th century in several different rhythmic cycles. In the second half Srikanth presents the UK premiere of her own Raga Seasons violin concerto with the Ligeti Quartet: six movements depicting the six seasons of the Hindu calendar.
Featuring:
Jyotsna Srikanth carnatic violin
RN Prakash mridangam
RR Prathap ghatam
Ligeti Quartet
The Indian Classical Music Series is a collaboration between Darbar Arts and DMU Music. This concert is free of charge. Suggested donation to Darbar Arts £5.00.