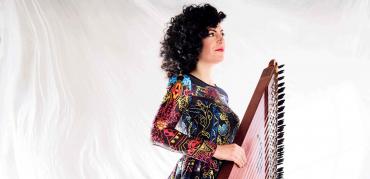 Songlines Encounters Festival
Maya Youssef is hailed as 'queen of the qanun,' the 78-stringed Middle Eastern plucked zither. Maya's intense and thoughtful music is rooted in the Arabic classical tradition but forges pathways into jazz, Western classical and flamenco styles. In this special concert for Songlines Encounters Maya debuts her forthcoming record Finding Home with an 11-piece ensemble including string quartet.
Maya's latest tour Finding Home is a journey through memories and the essence of home both within and without.  The music, deep and visceral, explores the full sonic textures of the qanun and Maya will be accompanied by the same musicians who recorded the album. The music from her latest album of the same name is about finding that place of peace, that place of softness, comfort, and healing which manifests in everyone in a unique way from finding home in nature to the people who make us feel that sense of relief and peace.
Maya wrote this album during a time of spiritual awakening. Over time she has come to accept the loss of her homeland and in the process of grieving (which she explored in her Album Syrian Dreams in 2018) Maya has found a much greater sense of home in the most spiritual sense.
"As any Syrian will tell you, there is this overwhelming sense of loss and an overwhelming sense of grief. Because that world which existed before the war started, despite it naturally having problems, was a beautiful world with a booming economy, artistic scene, film festivals and visiting international artists, Damascus was the third safest city in the world. The loss of that world was heart wrenching and, in a way, steered me towards a universal concept of home. The main trigger that made me create Syrian Dreams was the Syrian war and the loss of my homeland. And it's only by embarking on that spiritual journey of constant meditation and of finding home within God and within myself that I started to feel consolable and started to feel that I have my own home within me. I felt that the world is my home and humanity is my home. With my latest album I want to take people through a transformative journey, where they land in that place of home for them. No matter how that will look like for each person."
The Finding Home album is supported by Arts Council England and PRS Women Make Music Award.