This piece was inspired by an idea of capturing bursts of light and colour through a sonic and visual world with the combined impact of musical performance and fine art. The piece is meant to be performed with the painting on display. The painting, oil on canvass, was created in response to the composition with the intention of representing the work through aspects of colour, line, shape and form.
Composer:
Caroline Bordignon
Composer photo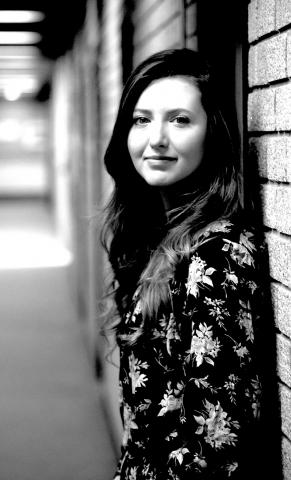 Biography
Caroline Bordignon is a Canadian composer and fine artist based in the UK.
Currently she is participating in the 2019/2020 London Symphony Orchestra Panufnik Composer's Scheme and the Psappha 'Composing For,' (viola) scheme 2020/2021. Her works have been performed at the Royal Liverpool Philharmonic Music Room, the Illuminate Women's Music Series also broadcast on BBC Radio 3, the Equator Festival at King's Place London, the International Sound in the Land Music Festival and the Northern Chords Festival.
Significant commissions have included 'Intertwined' for singing solo viola by Katherine Clarke, appearing on Classic FM and TwoSet Violin, the second and third movements of 'Incandescence' for string quartet and live painting with the Equilibrium Ensemble at the Royal Liverpool Philharmonic, arrangements of Norwegian Folk Song for Susanna Solsrud, Soprano, in association with the Bergen National Opera, 'Ultraviolet,' for the 2020 Illuminate Women's Music Series and 5 miniatures for solo bassoon and painting with the Birmingham Contemporary Music Group, 'Next' project performed by Edoardo Casali.
Currently Caroline is a PhD Candidate in composition at the Royal Northern College of Music in Manchester, UK with Adam Gorb and Laura Bowler. She seeks to explore aspects of colour, light, space, time and ways in which these interrelate through visual and musical expression synaesthetically. Her focus is to create visual and musical works together with the objective of establishing single, yet varied and complimentary art forms.
Workshop