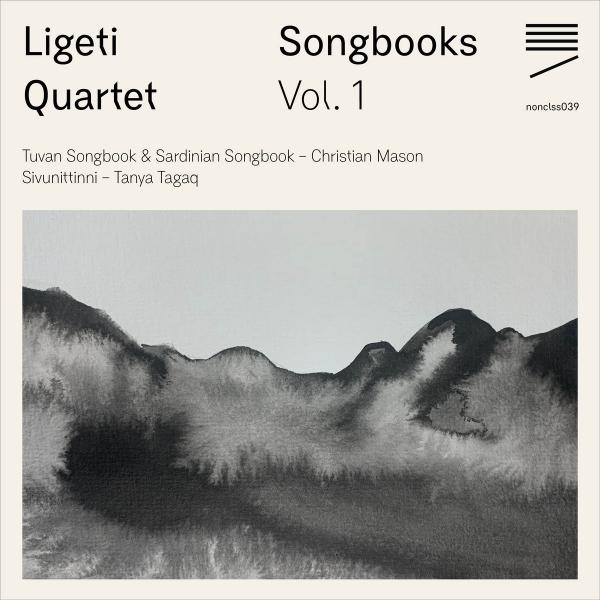 Born out of a long-standing collaboration between Ligeti Quartet and composer Christian Mason, Songbooks explores the way in which the acoustic properties of the string quartet emulate the human voice through Mason's use of extended techniques and unique sound-worlds. The result is an album of thrillingly direct and toe-tappingly exciting music which is profoundly influenced by the traditional songs of Tuva and Sardinia.

Tuvan Songbook was commissioned thanks to the generous support of the Britten-Pears Foundation, the RVW Trust, and St John's Smith Square and was premiered at St John's Smith Square on 10 May 2016. Tuvan Songbook was shortlisted for a British Composer Award in 2017. Sardinian Songbook was commissioned with the generous support of the Britten-Pears Foundation and the City Music Foundation, receiving its premiere performance on 24 April 2018 at Firth Hall, University of Sheffield.

Completing the album is 'Sai Ma (Racing Horses)' an arrangement of a traditional Chinese tune, written in 1963 by the erhu player and composer Huang Haihuai (1935-1967), and 'Sivunittinni (The Future Ones)' by Tanya Tagaq, written in 2015 for the Kronos Quartet's Fifty for the Future project. Tanya Tagaq has brought the practice of Katajjaq throat singing into the spotlight through her unique pop/punk sensibilities and production. Katajjjaq is traditionally practiced by two women who perform very close to each other, facing off in a kind of musical contest in which each performer must imitate what has come before them, varying each repetition slightly. The loser is either the first one to run out of breath or laugh (normally both of these things happen).
Credits
All tracks performed by Ligeti Quartet
Mandhira de Saram – violin I
Patrick Dawkins – violin II
Richard Jones – viola
Val Welbanks – cello

Recorded 25–28 August 2018 at Lightship 95 (Soup Studio), London

Producer – Leo Abrahams
Engineers – Giles Barrett and David Holmes
Production assistant – Tom Green
Cover artwork – Colleen Anderhub
Design – Nathan Comer
The recording was generously funded by City Music Foundation. Ligeti Quartet are incredibly grateful for their support and guidance in bringing this project to life.
Special thanks for encouragement and support to Arts Council England, Britten-Pears Foundation, Kronos Quartet, Stewart Campbell and University of Sheffield Concerts, Richard Heason and St John's Smith Square, Jennifer Tuft, MOOT - music of our time, Barak Schmool, Alice Madeddu, Ravi Gupta, Sarah Mitchell, Dave Mitchell, Mark Hop, the Plewes family, Joan de Saram, Colin Matthews, Mark Zetland, Duncan Mortimer, the Lazarus family, Jonathan Beecher, Charlotte Morgan, Sunethra Bandaranaike, and all our Kickstarter backers.