Venue:
Corn Exchange, Dorchester
Events at this venue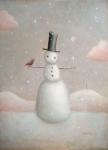 With narrator Mark Tattersall.
A festive fairytale treat for all the family, A Child's Christmas in Wales chronicles Dylan Thomas's own childhood memories and remains one of his most popular and loved works.
In this wonderful adaptation for strings, step into December days 'as white as Lapland', where mischief is easily found, snowballs are hurled, and the curious grownups are shrewdly observed.