Venue:
Kings Place (Hall One), London
Events at this venue
Curated by trumpet player/composer Laura Jurd, Stepping Back, Jumping In is a celebration of new sounds featuring world-class improvisers and contemporary music-makers from Norway and the UK, resulting in a superbly dynamic, 14-piece ensemble.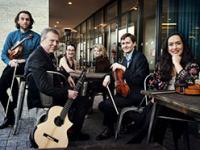 This concert launches two major guitar albums: Cançons i danses by the Eden Stell Guitar Duo featuring the first guitar CD entirely devoted to the music of the Catalan composer Federico Mompou, and Ignite by Tom Kerstens' G Plus Ensemble which offers an all new music programme including work by Max Richter, Gabriel Jackson and John Metcalfe.
Anna Meredith: Spook (2015) (world première)
Also including works by Max Richter, Joby Talbot, and John Metcalfe.
With Tom Kerstens' G Plus Ensemble, as part of Minimalism Unwrapped at Kings Place.