Venue:
Music at Port Milford, Canada
Events at this venue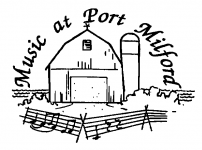 Established in 1987, Music at Port Milford offers an intensive four-week chamber music experience for serious string players, woodwind players and pianists between the ages of 12 and 18. 
The focused, cooperative atmosphere allows students to produce refined weekly performances of chamber, choral, and orchestral works. The outstanding music faculty serve as both coaches and mentors. Musicianship and community shape the Port Milford experience.