Venue:
Tewkesbury Abbey
Events at this venue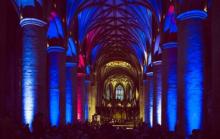 The Ligeti Quartet performs as part of the Cheltenham Festival's Classical Mixtape evening.
Back by popular demand, Classical Mixtape presents short pieces of live music from different stages surrounding the audience in uninterrupted bliss. Stand, sit or lie where you like and let the spine-tingling sounds and amazing architecture of Tewkesbury Abbey transport you to another world.
Pay what you can from just £1. There is no booking fee for this concert.