Venue:
Wiltshire Music Centre
Events at this venue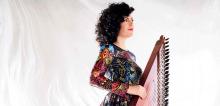 Maya Youssef is a virtuoso of the qanun which is a 78-stringed plucked instrument. Her intense and thoughtful music is rooted in the Arabic classical tradition but forges pathways into jazz, Western classical and flamenco styles. Her latest album Finding Home is a journey through memories and the essence of home both within and without.