Venue:
Saint Stephen's Church, Bristol
Events at this venue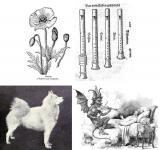 The Ligeti Quartet perform two pieces written for them in 2019. Firstly a brand new commission by Robin Haigh, his String Quartet which includes a tribute to scat singer Shooby Taylor, recorders (as always), an imitation of singing Samoyed dogs, and "technical death metal through a folk fiddle idiom". And then Tom Green's Solstice Songs, a reimagining of traditional festive tunes.