Chorale
Date of composition
2010/2021
Events for this work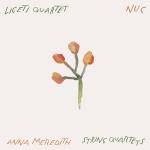 Anna Meredith has achieved incredible success straddling multiple musical worlds, never compromising her raw, individual style. This concert launches the Ligeti Quartet's new album Nuc, providing a survey of Meredith's career to date, heard through her original works for string quartet. New arrangements of Meredith's music by the Quartet's violist Richard Jones also feature, including from her award-winning electronic and dance albums.
Centred around music by Christian Mason and Tanya Tagaq from their recently released album Songbooks Vol. 1, Ligeti Quartet explores the sonic possibilities of string techniques inspired by throat singing traditions from around the world. York composers, past and present, make up the rest of the programme, taking inspiration from howling dogs, and the entire history of the string quartet itself.
This is an online concert from the Jack Lyons Concert Hall, University of York.